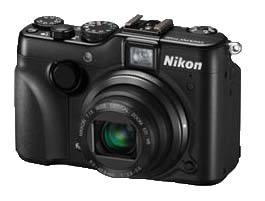 This is the flagship model of the Coolpix range which offers a smaller package than the Digital SLR range. The camera is available in a range of colours. The functionality is very similar to the functions in a fully specified SLR.
If you feel that you do not want the full flexibility of a Digital SLR then this camera may be for you. Being much smaller than a Digital SLR, a camera such as this is easy to take where ever you go. There is none of the complexity of the SLR camera with interchangeable lenses, it is all about simplicity and capturing the image at a moments notice.
The P7100 Coolpix offers a pixel count of 10.1-million pixels and is equipped with a large 1/1.7 inch CCD image sensor and a 7.1 times optical zoom.
The camera acquires focus in approximately 0.16 seconds and a shooting time lag of approximately 0.22 seconds. A 3 inch, 921k-dot, tilting LCD monitor with wide viewing angle is provided.
The camera is equipped with two command dials and one rotary multi selector to enable operation similar to that of a digital SLR camera. The camera is equipped with a special effects mode incorporating four new special effects, zoom exposure, defocus during exposure, cross process and creative monochrome.
There is a built in neutral density, ND, filter to reduce the amount of light that passes through the lens, to  give a three stop decrease in shutter speed.
A built in HD movie recording function allows you to preserve impressive scenes with 1280 x 720-pixel frames and stereo sound.