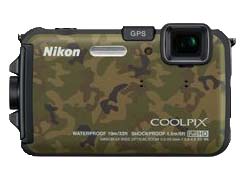 A new Camo Coolpix, well if you do not like the Camo colour there are other colours available, but this camera is for the very active person. If you want a camera that is suitable for all types of environments ranging from dusty to wet and if you want a camera in a small package to take anywhere, by saying anywhere I really mean it, as this camera should be able to take very rugged treatment and still survive.
This camera is the first of Nikon's digital AW series of waterproof, shock proof, cold resistant, compact digital cameras, it is equipped with many new features including GPS support, an electronic compass and map display and is very suitable for outdoor shooting for the adventurous type.
The sensor uses a backside illuminated CMOS image sensor for superb low light performance.
An effective pixel count of 16.0-million pixels and a 5 times optical zoom Nikkor  lens with a zoom range beginning at the wide-angle 28 mm (equivalent in 35mm format) for coverage of a broad range of angles of view.
The camera is very suitable for outdoor activities such as swimming, diving, hiking or skiing. It is waterproof to approximately 10 meters, shock-proof with a fall of up to approximately 1.5 meters, and can withstand cold air temperatures as low as −10°C, 14°F.
There is a special function for recording high resolution full HD movies with, stereo sound and a frame size of 1920 x 1080 pixels.
There are 19 scene modes with a subject tracking function with which the camera automatically tracks the specified subject.
A supplied filter adapter can be used to attach common 40.5-mm diameter filters to the lens.