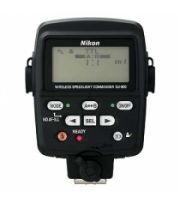 The wireless speedlight commander, SU-800, can be used to control up to 3 groups of compatible wireless flash units by controlling the flash output of the compatible Nikon Creative Lighting System speedlights, SB-900,  SB-800, SB-700, SB-600 or the  SB-R200 remote Speedlight units.
When using the compatible Nikon digital SLR cameras and Speedlights, the user can divide the Speedlight units into three groups and control the flash output independently for each group.
Purchase your Nikon Speedlight flash units here at B&H Photo Video.
Specifications
Transmission mode, infrared communications,
Transmission range, 20m (66 ft.) for SB-800/SB-600; 4m (13 ft.) for SB-R200,
Number of channels, 4,
Number of groups, 3,
Battery life, 1200 transmissions,
Transmission interval, 1 second,
Wavelength, 800 to 1000nm, infrared ray,
Flash coverage, 60°,
AF Assist,
One CR123A (3V) lithium battery,
Weight, 160g (5.6 oz.),
Dimensions, 68 x 96 x 58mm (2.7 x 3.8 x2.3 in.).