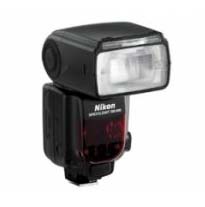 The SB-900 electronic flash is the top of the range flash produced by Nikon for their camera system. The flash is compatible with the Nikon Creative Lighting System and provides a 17-200 mm auto zoom range. The SB-900 has a better system than previous flashes for high speed recycle time. The firmware can also be uploaded via a Nikon digital SLR camera.
The SB-900 is the prime flash for the Nikon Creative Lighting System when  used in combination with other current Nikon flashes and digital SLRs.
It can serve as a master or remote Speedlight with the Creative Lighting System.
The flash will automatically detect Nikon FX and DX formats and selects the relevant light distribution. There is an improved booster circuit for a high speed recycle time. The AF Assist illumination covers 20-105 mm focal range.
A thermal cut out function limits the number of flashes to avoid deterioration of the flash with high intensity usage. The flash also automatically detects color filters so that the camera can control colour temperature according to filter information from SB-900.
This flash has now been superseded by the

SB-910

.
Specifications
Guide number, 34/111.5 at ISO 100, m/ft) and 48/157.5 at ISO 200, m/ft,
Three illumination patterns are provided, standard, even and center weighted,
Shooting distance range, 0.6 m to 20 m (2 to 66 ft),
Modes, TTL, Auto Aperture flash, Non-TTL auto flash, Distance-priority manual flash, Manual flash, Repeating flash,
Test firing,
Monitor pre-flashes,
AF assist illuminator,
Modeling illuminator,
Multiple flash operation with Nikon's Advanced Wireless Lighting,
Compatible cameras, all cameras compatible with Nikon Creative Lighting System,
Flash exposure control is set on the camera,
Modes,  Slow sync, Red eye reduction, Rear-curtain sync, Rear-curtain slow-sync,
Bounce capability, head tilts down to -7° or up to 90° with click-stops at -7°, 0°, 45°, 60°, 75°, 90°, head rotates horizontally 180° to the left and right with click-stops at 0°, 30°, 60°, 90°, 120°, 150°, 180°,
Four AA batteries,
Ready light,
Flash duration, 1/880 sec. at full output,
Mounting foot lock,
Dimensions, 78.0 x146.0 x 118.5 mm, 3.0 x 5.7 x 4.7 in,
Weight, 415 g, 14.6 oz.