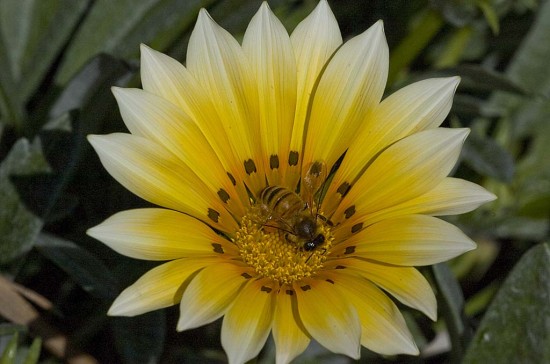 There is always an opportunity for macro or close up photography in your own back yard especially when you have a garden. The above image of a daisy could have been an image by itself, however I was able to wait until a bee landed on the flower which provided a far better image. In this instance a macro lens was used to enable close focussing on the subject. Photography is all about catching an instant in time or catching the decisive moment. With an image such as this it may help to place the camera on a tripod and use a remote control and wait until the bee lands on the flower. A macro lens will enable you to get close to the subject and also to selectively focus on the subject to throw the background  out of focus.
In the image below, again a macro lens was used and a very narrow depth of field (very low aperture) was used to selectively focus. The bright color of this insect makes it stand out against the green foliage.
Sometimes with macro photography it enhances the image by using a flash to fill in and balance the lighting.
Some basic tips to good macro photography are as follows:
Use a dedicated macro lens or a close up supplementary lens.
Use flash for balanced lighting.
Consider using a tripod.
Be careful with depth of field.
Rather than using the lens focussing, consider moving the camera back and forth to get the image in focus as this may facilitate easier focussing.
An adjustable focussing rail can be used to move the camera closer or away from the subject.