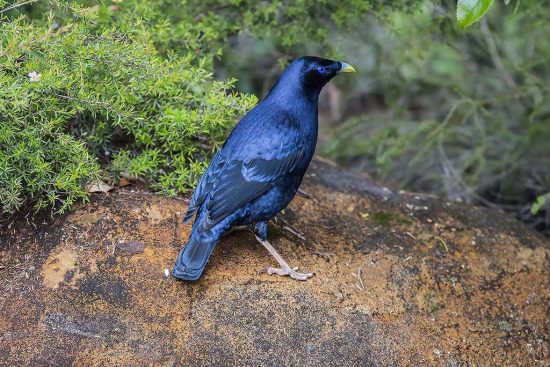 Photography of birds is one of the most difficult subjects to capture, here we will give you some tips which assist in improving your bird captures. The above image of a Satin Bowerbird has been photographed at the Lamington National Park, Queensland..
Frequent places where birds regularly visit, such as honey eaters at certain flowers or birds at water holes.
Use a long lens to bring the bird closer.
Use a camera with a smaller sensor, a Nikon DX format camera is better than an FX format camera.
Use a bird hide.
Stalk the birds so as to not scare them.
Birds are easier to photograph in Zoos or nature reserves.
Walk through aviaries are excellent to get closer to many rare birds.
Walking around the shores of lakes or inlets may enable you to get closer to water birds.
Using a tripod will give you much sharper images especially when using long lenses for birds.
A monopod is very useful for stabilizing a long lens.
If a moniopod or tripod is not available, stabilize the camera against some firm object.
Falconry Demonstrations can be good to get closer to the birds.
The use of  binoculars are very useful to watch where birds are.
Use fast shutter speeds to  help freeze the action.
Use low apertures also to help freeze the action.
Join a bird watching club to help find the location of birds.
Get some bird books to study the habits and feeding patterns of birds.
Early morning or late evening are good times to find birds, also the lighting is better at these times.
If photographing birds near nests be very careful to not disturb the birds.
Be careful of the back ground to ensure it does not intrude into the photograph.
The best bird photographs are generally captured in the wild, in their natural environment.
Try to get as close to the bird as possible, by gradually approaching the bird and getting images as you approach, as you get closer the bird may fly off, but use this opportunity to get a flight image as the bird takes off.