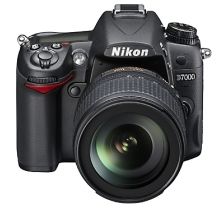 This D7000 camera offers everything the keen amateur photographer would need. The sensor is 16.2 million pixels and offers a sensitivity range of ISO 100 to 6,400, with increases up to Hi 2, ISO 25600.
A magnesium alloy body is used for extra ruggedness and for water and dust resistance.
There is a new 39 point auto focus system, with a new Multi CAM4800DX autofocus module.
The number of active focus points can be limited to 11 for ease of operation.
The camera is provided with a D-Movie function,  for high definition movies 1920 × 1080p at 24 fps.
The life expectancy of the shutter is 150,000 cycles.
Two special modes, U1 and U2 allow users to assign frequently used settings for instant recall, by rotating the mode dial. A live view function can also easily be selected.
There is a double SD memory card slot for two SD memory cards.
Many images from this camera are now appearing on the internet and the camera performance can now be seen to be excellent, especially at high ISO levels. This camera offers great performance at the price point.
Several samples from this camera are as follows in the links below.
http://www.flickr.com/photos/ellavsky/sets/72157625042108973/
Camera Specification:
16.2 million pixels,
DX format sensor, 23.6 x 15.6 mm, CMOS,
Image size,

DX 4,928 x 3,264, 3,696 × 2,448, 2,464 × 1,632,
D-movie: 1920 x 1080/24p, 1280 x 720/30fps, 1280 x 720/25fps, 1280 x 720/24fps, 640 x 424/24fps,

ISO 100 to 6400 in steps of 1/3, 1/2, or 1 EV, plus HI 0.3, HI 0.5, HI 0.7, HI 1, HI 2,
SD memory,
Video output, HDMI output, stereo mini-pin audio input,
Picture angle 1.5 times lens focal length,
Battery life 1,050 shots,
Dimensions, 132 × 105 × 77 mm,
Weight, 690 grams.