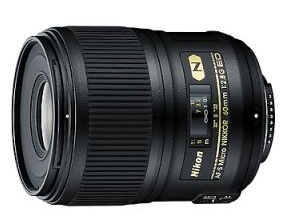 This 60mm AF-S Micro lens allows for life size close ups. The internal focusing, IF design allows focussing without changing the length of the lens.
This lens is extremely sharp and the use of ED glass elements minimizes any chromatic aberrations. A M/A mode allows rapid switching between autofocus and manual focusing.
Nikon manufacture three micro lenses, the  200mm f/4.0, 105mm f/2.8 and the 60mm f/2.8. The closest focus distance of the 60mm is 0.185 metres. The 105mm will give a longer close focussing distance and the 200mm longer still. This criteria should determine which micro lens you need, a longer micro lens is usefull if photographing subjects such as butterfies etc.
The 60mm micro has rounded nine blade diaphragm blades to give a pleasing bokeh.
This micro lens is one of the best micro lense Nikon has made in terms of optical quality. Images are super high quality, right from the lowest aperture of f/2.8 to f/11. This lens is also very good at longer distances also and shoul not just be regarded as a Macro lens.
The lens is internal focussing and thus does not get longer when focussing.
The flatness of field with this lens is excellent and it uses the Nikon nano coating to help reduce flare and ghosts.
Purchase your Nikon Digital SLR Lenses here at B&H Photo Video.
Lens specification:
Lens Construction 12 elements, 9 groups, 1 ED glass element, 2 aspherical elements and 1 element with nano crystal coating,
Picture Angle, FX 39°40',
Picture Angle, DX, 26°30',
F stop range 2.8 to 32,
Closest focusing distance 0.185 metres,
Maximum reproduction ratio 1.0 times, life size,
Filter size 62 mm,
Lens hood, HB-42,
Lens case, CL-1018,
Dimensions 73 x 89 mm,
Weight 425 grams.