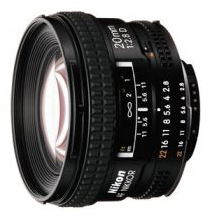 This lens is great for wide angle photography, it is extremely compact. If a lens is required wider than this, then go for the 14-24mm f/2.8 zoom.
The lens features the close range correction (CRC) system to provide high performance at both near and far focusing distances, this lens is the best of the older 24mm f/2.8 D and 35mm f/2.0 D lenses.
With this lens there is some curvature of field, at close ranges, and there is also some chromatic aberation. Image sharpness is reasonable but not excellent. Contrast is quite good.
Purchase your Nikon Digital SLR Lenses here at B&H Photo Video.
Lens specification:
Lens Construction,12 elements, 6 groups,
Picture Angle, FX, 94 degrees,
Picture Angle, DX, 70 degrees,
F stop range 2.8 to 22,
Closest focusing distance, 0.25 metres, 0.85 feet,
Maximum reproduction ratio 0.12 times,
Filter size 62 mm,
Dimensions 69 x 42.5 mm,
Weight 270 grams.