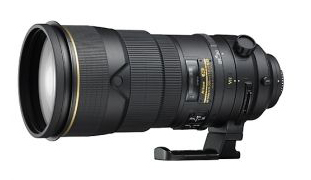 This extreme fast telephoto lens has Nikons vibration reduction (VR II) to help reduce camera movement, this offers a gain of around 4 stops in shutter speed.
An A/M (autofocus with manual override, AF priority) focus mode prevents accidental switching from autofocus to manual focus, along with M/A (autofocus with manual override, manual priority) mode and M (manual) mode to give a total of three focus modes. The lens also has Nikons nano ccrystal coating.
This is an amazing lens which is super sharp. It also operates magnificently with Nikons range of teleconverters, including the current versions  TC-1.4E II, TC-1.7E II and TC-2.0E III. Combined with these three teleconverters this lens gives an amazing range of telephoto options to give lenses of 300mm f/2.8, 420mm f/4.0, 510mm f/4.8 and 600mm f/5.6.
The 300mm  VR lens is a very solidly made lens, it has a very fast autofocus response time.
The resultant images are very well saturated and have a high contrast. The sharpness of the lens is excellent from f/2.8 to f/22. Flare is very good due to the nano crystal coating.
Using the VR and with the lens hand-held, sharp images can be obtained down to 1/10 of a second.
The lens works very well with the TC-1.4E II, TC-1.7E II and TC-2.0E III teleconverters, but better image quality will be obtained with the lens stopped down by 1 to 2 stops.
The bokeh with this lens is beautiful.
Specification:
Lens Construction, 11 elements, 8 Groups, 3 ED elements, nano crystal coating,
Picture Angle FX 8°10′,
Picture Angle DX 5°20′,
F stop range 2.8 to 22,
Closest focusing distance 2.3 metres,
Maximum reproduction ratio 0.16 times,
Filter Attachment Size 52 mm internally,
Lens hood, HK-30,
Lens Case CL-L1,
Dimensions 124 x 267.5 mm,
Weight 2,900 grams.