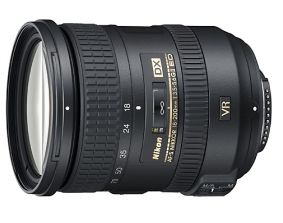 This is a very compact wide range lens covering 18-200mm. The lens uses built in vibration reduction VRII.
This is an excellent zoom lens for travelling with a Nikon DX camera, where a single lens is required to avoid lens changing. For a lens with a large zoom range the performannce is quite good for general photography.
This 11 times zoom lens, appears to be the ultimate single wide range lens for your DX camera.
The lens has 16 elements and is relatively light weight. This lens has variable distortion at different focal lengths and you need to be very careful when shooting subjects such as architecture, as straight lines may be curved.
In general the  image quality is quite good considering the zoom range but the performance is not so good, as the lens zooms out to the long (200mm) end.
With the vibration reduction, VR, sharp images can be obtained down to around 1/10 second exposure times.
Purchase your Nikon Digital SLR Lenses here at B&H Photo Video.
Specification:
Lens Construction, 16 elements, 12 groups, 2 ED glasses, 3 aspherical lenses,
Picture Angle, with Nikon DX Format 76° – 8°,
F stop range 3.5-5.6 to 22 – 36,
Closest focusing distance 0.5metres,
Maximum reproduction ratio 0.22 times,
Filter size 72 mm,
Lens Hood HB-35,
Lens Case CL-1018,
Dimensions 77 x 96.5 mm,
Weight 565 grams.