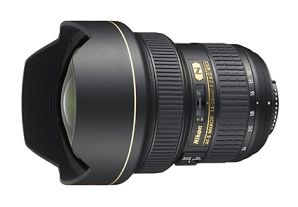 The 14-24mm zoom offers exceptional performance at all focal lengths. This is one of the most highly regarded wide angle Nikon lenses and is a wonderful photojournalism lens.
Is this the best wide angle lens ever made. I will not be bold enough to say yes to this question but many photographers are making the claim that it is the best zoom ever.
This lens includes the latest nano coating  and ED glass to help reduce lens aberations. The lens utilises IF (internal focusing) to enable focusing without changing the length of lens barrel. The M/A mode enables instant switching from autofocus to manual focus. The lens has a dedicated flower shaped lens hood to minimizes stray light.
In addition to this lens being a photojournalism lens it is also a superior landscape lens. For photographers wishing to use this lens  for stitched landscape images, for which it is very suitable. When creating a panorama the lens is rotated as close as possible around its nodal point. In doing so, any parallax errors are eliminated to produce better matched images. With the Nikon 14-24mm lens the nodal point is located very close to the gold ring around the lens barrel.
This lens is the ultimate choice for extreme wide angle landscape photography. Personally I prefer this lens over the 16mm fisheye lens due to the distortion factor.
This lens is the ultimate in wide angle zooms, in fact it is better than most fixed focal length lenses. The lens is extremely sharp with little corner fall off, it is of high contrast and with little ghosting.
This lens does not take filters and any distortion with this lens is barely visible.
The only disadvantage of this lens is the lack of filters, however with an extreme wide angle lens such as this, it is very difficult to utilise filters such as circular polarisers due to the unevenness resulting when polarisers are used with extreme wide angle lenses. Also many effects of filters can be replicated in post processing. Even so, the lack of filters may be a stopper for some people using this lens. If filters are required, then the newer 16-35mm f/4 lens may be more suitable.
The lens incorporates Nikon's latest nano coatings.
With lenses such as this the front lens element needs to be kept immaculately clean to avoid any flare with back lighting.
Purchase your Nikon Digital SLR Lenses here at B&H Photo Video.
Specification:
Lens construction, 14 elements, 11 groups, 2 ED glass elements, 3 aspherical lenses and 1 nano crystal coated elenent,
Picture angle, FX 84° – 114° ,
Picture angle, DX 61° – 90°,
F stop range 2.8 to 22,
Closest focusing distance 0.28 metres, 0.9 feet,
Maximum reproduction ratio 0.15 times,
Lens hood built in,
Lens case, CL-M3,
Dimensions 98 x 131.5 mm,
Weight 1,000 grams.