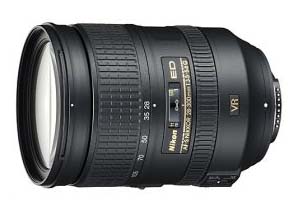 This lens is an FX format, full frame 10.7 mtimes zoom covering focal lengths from 28mm to 300mm. This lens covers a very large focal length range and would be suitable as a travel lens where fast apertures are not required. The lens is very compact and lightweight and has  built in vibration reduction, VR II.
The lens is provided with two vibration reduction, VR modes, normal and active. The lens features two ED and three aspherical lens elements for improved optical performance. The lens also has an internal focusing, IF system and a built in Silent Wave Motor, SWM for focusing. This lens with the AF-S system is compatible with all current Nikon cameras.
The lens is equipped with two focus modes, M/A, autofocus with manual override and M, manual focus. A zoom lock has been included to prevent the lens from extending due to its own weight.
Purchase your Nikon Digital SLR Lenses here at B&H Photo Video.
The following briefly summarises the lens spoecification:
Lens Construction 19 elements, 14 groups, 2 ED and 3 aspherical elements

Picture Angle with FX format 75°-8° 10′

Picture Angle with DX Format 53°-5° 20′

F stop range 3.5 at 28mm  and 5.6 at 300mm to 22-38.

Closest focusing 0.5 metres

Maximum reproduction ratio 0.32 times at 300mm

Filter Size 77mm

Lens Hood HB-50

Lens Case CL-1120

Dimensions 83 x 114.5 mm

Weight 800 grams