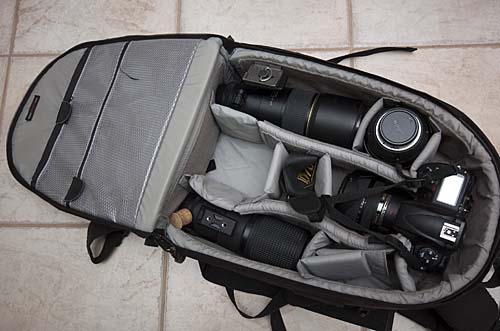 Those of us who are into photography, generally over a period of time we will collect quite a lot of photographic equipment. Personally I prefer a backpack to transport my gear as I find it easier to carry than a shoulder type bag. As we collect more equipment our bag will be carrying many valuable items, so make sure your bag is of good quality. If we purchase an excellent quality bag it will last many years, in fact I still have an old trunk style bag I have had for over 30 years.
Recently I was travelling in Osaka, Japan with a rather cheap backpack camera bag and the zip on the main part of the bag gave way, a disruption like this can be very inconvenient when travelling. Luckily I was in a main city and was able to go to the Yodobashi Osaka, camera store to purchase a new backpack and resume my travel around Japan. Ensure that your bag is flexible as to the arangement of the equipment that you need to carry as this will vary with each trip you do and what equipment you will be carrying.
A list of equipment you may carry in your bag, depending on your trip could be as follows:
Camera
Wide angle lens
Normal lens
Telephoto lens
Flash
Telephoto extender
Flash cards
Backup drives
Tripod
Ball head
Cable release
Monopod
Batteries and chargers
Lens tissues
The bag I generally use is a Lowepro Computrekker which also has a section for a laptop if required. Choice of a bag is a personal thing and you need to choose so mething that suits your shooting style and also suits your body. There are several reputable manufacturers of bags, the major ones being LowePro, Tamrac and ThinkTank. There are also many types of bags including backpacks, shoulder bags, trunks, cases and also utility belt styles with pouches.