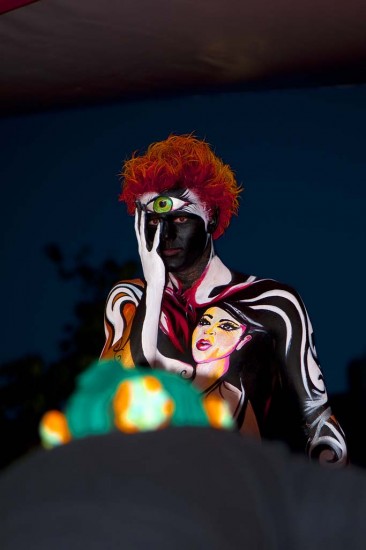 The images here have been captured at the Body Art Carnivale at Eumundi, Queensland, Australia.
A carnival such as this is a great opportunity to capture images of body art and face painting. The images here were captured through from the painting preparation process to the final display.
For these images a Nikon D700 camera was used together with a 105mm f/2.8  Micro lens and a 200mm f/4.0 Micro lens. Lenses in the range 85-200mm are very suitable for this type of photography.
A low aperture lens of at least f/2.8 is of great advantage for this photography, as it will enable you to acheive a nice depth of field to blur out the background as required, also a low aperture lens will allow creative selective focus. A blurred out background will bring the viewers attention to the main subject.
A fill in flash with a diffuser can also be useful for suplementary lighting to give more even lighting.
The image above was captured after dark, using camera settings as follows:
ISO of 200

Built in camera flash

Shuttur speed 1/60 second

Aperture f/3.5
Also to capture moving subjects after dark it is advantageous to have a lens with an aperture capable of going down to f/1.4 when shooting in low light.
The image of the Crouching Man below was also photographed with flash and the remaining images with natural daylight.