Nikon Speedlight Review SB-R200 Electronic Flash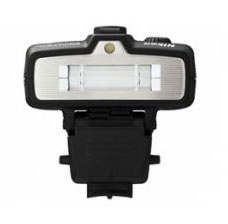 The Wireless Remote Speedlight, SB-R200 is a portable wireless remote flash unit for the Nikon Advanced Wireless Lighting system. This flash is mainly aimed at being used with the Nikon Micro lenses,for close up images. With the optional accessories for mounting flashes at at end of the Micro lenses exceptionally good colose up images can be obtained. The SB-R200 flash units are used as remote units with the Nikon Advanced Wireless Lighting system.
Purchase your Nikon Speedlight flash units here at B&H Photo Video.
Specifications
Guide number, 10/33 at ISO 100, m/ft, 14/46 at ISO 200, m/ft,
Angle of coverage, 60° vertical and 78° horizontal,
Flash modes, i-TTL, D-TTL, TTL,
Recycling time, 6 seconds,
Number of flashes, 290,
Flash head tilts down 60° with click stops at every 15°, or up to 45° in the opposite direction with click stops at every 15°,
Flash duration, 600µs,
One CR123A (3V) lithium battery,
Weight without battery, 120g (4.2 oz.),
Dimensions, 80 x 75 x 55mm (3.1 x 3.0 x2.2 in.),
alldigi.com
If you find this site useful you can help support us by starting your purchases from any of the B&H links or by clicking on some of the other ads on the site.
Comments are very welcome. All comments are held for moderation. No advertising comments or links are accepted. To advertise please contact us.
Photography Categories And Nikon Equipment Data