Nikon Speedlight Review SB-700 Electronic Flash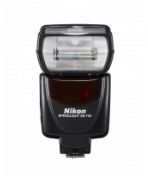 The SB-700 speedlight is a very simple to operate flash unit for all photographers. The SB-700 can be used with Nikon's Creative Lighting System.
The LCD display and the physical layout of all the controls are designed for very easy and intuitive operation.
A multi step zoom will automatically cover a wide 24-120 mm zoom range. The flash will automatically detect the FX or DX Nikon sensor formats and selects the correct light distribution angle. The flash also provides a very short recycling time with AF assist illumination to assist the camera in its focussing in low light levels.
A wireless control mode, allows you to control remote flash units in both master and remote modes.
Firmware updates can be implemented via Nikon digital SLR cameras.
The flash will automatically delay the recycling time if the temperature of the flash head rises in order to protect the flash head.
The flash will automatically detects the type of color compensation filter, fluorescent and incandescent, and automatically transmit the  filter information to the camera for optimum white balance setting.
Specifications
Guide number at 35 mm zoom head position for FX format, 28/92 at ISO 100 m/ft. or 39/128 at ISO 200, m/ft.
Effective flash distance range, 0.6 m to 20 m, 2 ft. to 66 ft,
AF assist illumination,
Modeling illumination,
For all cameras compatible with Nikon Creative Lighting System,
Flash exposure control is set on the camera,
Slow sync,
Red eye reduction slow-sync,
Front curtain sync,
Rear curtain sync,
Rear-curtain slow-sync,
Auto FP high-speed sync,
Red-eye reduction,
Bounce capability,
Flash head tilts down 7° or up 90° with click-stops at -7°, 0°, 45°, 60°, 75°, 90°,
Flash head rotates horizontally, 180° in each direction with click stops at 0°, 30°, 60°, 75°, 90°, 120°, 150°, 180°,
Power source, four AA batteries,
Flash ready indicator,
Flash duration, 1/1042 sec,
Dimensions, 71 x 126 x 104.5 mm or 2.8 x 5.0 x 4.1 in.,
Weight, 360 g, 12.7 oz,
alldigi.com
If you find this site useful you can help support us by starting your purchases from any of the B&H links or by clicking on some of the other ads on the site.
Comments are very welcome. All comments are held for moderation. No advertising comments or links are accepted. To advertise please contact us.
Photography Categories And Nikon Equipment Data