Nikon Close up Speedlight Electronic Flash Kit – Commander R1C1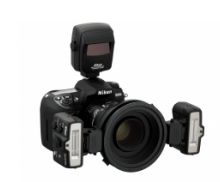 The Nikon Close up Speedlight kit gives amazing functionality to the photography of extreme close ups. The system is very flexible in respect to on camera flash and also the number of remote flash units you need to use.
The Nikon Close up Speedlight Remote Kit R1, is for photographers who want to use an SB-800 or a camera built in Speedlight instead of the SU-800 control unit as the controller.
These sets enable the SB-R200, Speedlights to be attached to the front of the lens for macro work.
Key Features are as follows:
Wireless Speedlight Commander, SU-800,
Two Wireless Remote Speedlight, SB-R200s,
Attachment Ring,SX-1,
Soft Case, SS-SU800,
Filter Set, SJ-R200,
Color Filter Holder, SZ-1.
alldigi.com
If you find this site useful you can help support us by starting your purchases from any of the B&H links or by clicking on some of the other ads on the site.
Comments are very welcome. All comments are held for moderation. No advertising comments or links are accepted. To advertise please contact us.
Photography Categories And Nikon Equipment Data