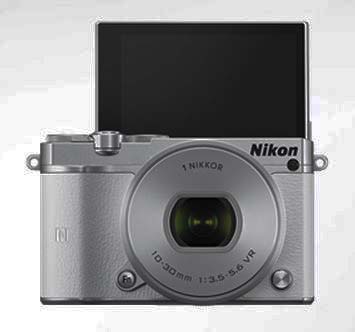 The new Nikon 1 J5, is the newest in the family of Nikon 1 cameras. This camera has excellent advances from the previous J4 version and looks to me to be the ultimate small format camera.
This camera shoots fast continuous shooting speeds of 20 frames per second with autofocus tracking and videos at up to 4K/15p. With an 180° upward tilting LCD monitor and with a touch screen, full manual control, new effects and even built-in Wi-Fi and NFC (more of this later) technology for sharing your photos on the go.
Quicker than a DSLR, the J5 has the shortest shooting time lag and the world's fastest continuous shooting frame rate of approximately 20 frames per second (fps) with autofocus (AF) tracking and up to around 60 fps when the focus is locked. The AF system utilises 105 phase detect AF points to capture your subject. A new Sports Mode optimises the J5 for fast-action, so you can switch from shooting pre game portraits to capturing action on the field, without missing anything.
The J5 utilises 20.8 megapixels and a new back side illuminated CX format CMOS image sensor that gathers more light, for faster shutter speeds and enhanced low light capabilities. Nikon's new EXPEED 5A image processing engine ensures rich colours, smooth tones and razor-sharp details in every photo and Full HD video. Turn up the ISO from 160 to 12800 to shoot clear imagery even in low light situations.
The 3 inch tilting LCD monitor tilts upwards to approximately 180° and downwards to approximately 86°. Together with the touch screen feature, the J5 puts the control at your fingertips and lets you shoot from any creative angle. The new Self-Portrait mode, along with Glamour Retouch function that retouches your features, offers skin softening, self-timer and exposure compensation features, ensuring that you look stunning in every photo.
The J5 incorporates a modern, minimalistic yet stylish design that's built for stress free photography. The new Command Dial makes it easy to navigate the camera's intuitive menu system and the improved grip lets you control the camera with just one hand. Quickly recall your favourite menu or setting with a customisable Function button, conveniently located on the camera, helping you bring your creative vision to life.
The J5's built-in Wi-Fi and NFC capabilities allow your pre-selected images to be transferred to smart devices once connected via the free Wireless Mobile Utility app, available for iOS and Android devices. You can even use your smart device to remotely shoot and capture through the J5.
Create breath-taking cinematic experiences in Full HD 1080/60p and up to 4K/15p format, a first for Nikon 1 cameras, along with beautiful time lapse videos that allows you to shoot and replay imagery at high speeds. Bring out more details in the highlights and shadows of your movies with Active D-Lighting during movie shooting and keep your videos sharp and steady with Electronic Vibration Reduction (VR) technology built directly into the camera.
The J5 is designed to deliver the portability of a compact digital camera with superior image quality. With a body size of 98.3mm (width) x 59.7mm (height) x 31.5mm (depth) and weighing a mere 231g, the J5 fits snugly in the palm of your hand.
The J5 connects you to a wide array of superior 1 NIKKOR lens options, from wide angle primes to telephoto zooms. With the optional FT-1 Mount Adapter, you gain access to a vast array of superb NIKKOR optics to add to your arsenal. To get the most out of your camera, take advantage of our wide selection of additional accessories, such as Speedlights or wireless remotes, built to take your photography to the next level.
A technological breakthrough that is revolutionizing autofocus throughout the camera industry, hybrid AF systems combine fast phase detection AF with the precision and low light capability of contrast detect AF. Nikon 1 J5's advanced hybrid AF system is incorporated on the CMOS image sensor and represents the pinnacle of this breakthrough technology. Featuring 171 AF points tightly packed over nearly the entire frame, of which 105 are phase-detection points.
Set Nikon 1 J5 to capture fantastic sports shots with a turn of the mode dial. Selecting Sports mode adjusts all settings that you would normally have to make manually in order to ensure freeze-frame action photos. After releasing the shutter, the camera records a burst of images at up to 60 frames per second (fps), even in RAW format. You can immediately view the entire sequence as one group of shots. The default shooting speed of 10 fps can be set to 5, 20, 30 or 60 fps. And since Sports mode employs continuous AF (AF-C) when shooting at 5, 10 or 20 fps, your subject will always be in pinpoint focus*. * When shooting at 30 or 60 fps, autofocus is fixed at the first frame. Note: While photographs are being recorded to the memory card, the memory card access lamp will light. Depending on shooting conditions and memory card write speed, recording may continue for some time after shooting ends.
The short shooting time lag of Nikon 1 J5 helps you capture moments that other cameras all too often miss. Press the shutter-release button or tap the display and the camera springs to life with a response that is nothing short of amazing. Every smile, wink, jump and kick perfectly captured. Response is further improved by using a capless 1 NIKKOR lens, a combo that makes for true point-and-shoot simplicity. Just power the camera on and you can begin shooting immediately.
Backside illumination technology brings out the best in photos and movies. Unlike conventional CMOS image sensors, in which light passes through a maze of circuitry before striking the photodiode, this new sensor has diodes atop the circuitry. This delivers extremely high resolution images with low noise.
Nikon's latest version of EXPEED delivers improved speed, increased noise reduction at high ISO settings, and greater energy savings. This fast new engine transforms the huge amount of data from the 20.8-megapixel image sensor into beautiful, lifelike photos and movies and makes possible 4K movies. It also improves color reproduction in live view and adds a new level of noise reduction.
The mode dial, shutter release button, power switch, command dial and movie record button are clustered together for simple, one handed operation.
The front-located Fn (function) button offers fast access to frequently used settings.
Some of the camera settings are summarised below.
Let Nikon 1 J5 make all exposure and certain image settings, including ISO and white balance — a fun, carefree way to obtain fantastic images.
Let Nikon 1 J5 automatically optimize both shutter speed and aperture for perfectly exposed photos.
Select a shutter speed and let the camera automatically set the proper aperture. This is ideal for controlling subject motion: Select fast shutter speeds to freeze action and slower ones to express movement.
Select an aperture and let the camera automatically set the proper shutter speed. This is ideal for controlling blur: Select large apertures (small f-numbers) to blur objects in the foreground/background and small apertures (large f-numbers) to clearly render objects in the foreground/background.
For complete creative control over subject motion and background/foreground blur, manually set both aperture and shutter speed.
Optimize camera settings for continuous shooting.
Select one of the camera's creative modes according to subject, situation or your own creative inspiration: Skin softening, Nostalgic sepia, Pop, Retro, High-contrast monochrome, Cross screen, Fisheye, HDR, Soft, Easy panorama, Miniature effect, Selective color, Cross process and Toy camera effect. Five other settings — previously found under Nikon 1's AUTO mode — can also be selected here: Night portrait, Portrait, Landscape, Night landscape and Close up.
Select one of the camera's movie shooting modes: HD movie, 4K movie, Slow motion, Fast motion, Jump cut, 4-second movie and Time-lapse movie.
Add a four-second video clip to photos while you shoot.
Select one of the camera's action-shooting modes: Active Selection, Slow view and Smart Photo Selector.
Selfies never looked this nice, or have been this easy. When shooting, just flip up the LCD monitor and compose the perfect shot. The touch screen LCD monitor lets you soften the look of skin and change exposure without having to access controls on the back. Use the self-timer to capture spontaneous expressions, or shoot immediately by pressing the shutter-release button or touching the monitor.
Skin softening.
Make portraits more attractive with this in camera creative tool. Eight retouching options are available to flatter your subject, making people look their absolute best. Soften skin, make faces look smaller and brighter, or whiten teeth and eyes. You can even hide unseemly bags under eyes, add a touch of color to cheeks or widen eyes. Retouch settings and effect levels can be combined, and are easily adjusted via the touch screen LCD monitor.

Skin softening
Small face
Whiten teeth
Whiten eyes
Brighten faces
Hide eye bags
Redden cheeks
Big eyes
A light tap on the bright LCD monitor is all it takes to adjust camera settings as well as focus and shoot — even when the display is tilted. Menus and text are optimized for maximum readability and intuitive operation.
Can't be bothered with the shutter-release button? Just tap the screen once to focus and take the photo. The camera focuses on the area you touch then automatically captures the moment. It's nearly instantaneous, too, thanks to the advanced hybrid AF system.
Simply press the F (Feature) button to display the menu then adjust shooting or playback settings. The sharp LCD monitor and uncluttered user interface facilitate operation, which can be performed using buttons, via the touch screen or a combination of both. Easy-to-understand icons aid in choosing the appropriate mode.
After firing off a burst of photos you can display all the images as a group in a continuous playback stream. This is a convenient way to analyze subject motion and facilitate editing sequences shot with one of the continuous shooting modes such as Sports mode or Active Selection.
Explore the wonders of time-lapse photography in sequences up to 999 shots long. Set the camera on a tripod and photograph clouds racing overhead, or record an extended journey from the front seat of your vehicle. You can shoot in intervals between 5 seconds and 99 minutes 59 seconds, and adjust the total number of photos.
Take the guesswork out of action shots. Just when is the decisive moment? Rather than guessing, get help using Active Selection. As the action begins to unfold, Nikon 1 J5 begins shooting up to 20 photos at high speed before fully pressing the shutter-release button, or 20 shots total before and after pressing the button. When finished shooting, you can review the sequence and decide which images to keep. Save the entire sequence or just the ones that capture the essence of the moment.
Shots of parties and groups? Automatically save the best and delete the rest. Poring over group shots to find the best of the bunch isn't much fun. So let Smart Photo Selector do the work for you. Just compose the shot then begin pressing the shutter-release button. From the halfway point, Nikon 1 J5 starts shooting and continues until a few moments after you fully press and release the button, recording up to 20 images. The camera then automatically saves the five most pleasing shots and displays what it determines to be the best based on eye blinks, composition and camera-shake blur. Unneeded images are deleted for you.
Pick and choose the best shot from a slow motion sequence. Knowing just when to take the shot while trying to capture fast-moving action can sometimes be difficult. Slow view solves this problem. Simply press the shutter-release button halfway and Nikon 1 J5 records up to 20 frames at 30 frames per second. The LCD monitor displays the action occurring in slow motion. When you see the shot you like, press the button the rest of the way and the image is automatically saved.
Make stills come alive with the magic of movies. Add movement to everyday snaps and watch them come to life with a newfound vibrancy. Motion Snapshot appends four seconds of slow-motion video along with ambient sounds or background music to a normal snapshot. Just point and shoot. It's as easy as taking a photo. Motion Snapshots are created in-camera. No special editing skills or software are required so you can enjoy them immediately.
Expand your enjoyment of Motion Snapshot. Because Motion Snapshots are automatically created in-camera, you can view and share them on the LCD monitor immediately.
Sophisticated noise reduction made possible by advanced EXPEED 5A image processing. Nikon 1 J5's improved noise reduction delivers clean, blur free photos of dimly lit scenes such as night cityscapes and vibrant sunsets. The camera first takes a sequence of shots at high speed at either ISO 6400 (NR) or 12800 (NR) then combines them into one beautiful photo with reduced image noise.
Make photos you are shooting resemble dioramas. This is great for turning everyday scenes into fascinating shots of toy like wonder.
Use this feature to shoot stunning panoramas. Capture majestic landscapes and exciting cityscapes in all their expansive glory.
3840 x 2160/15p The ultimate movie experience now comes to Nikon 1. With a resolution of 3840 x 2160 pixels, four times higher than Full HD — 4K represents a remarkable breakthrough in video. See every tiny detail and get swept off your feet by the realism that is 4K. And with the outstanding noise reduction provided by the new image sensor and EXPEED 5A image processing engine, movies shot in low-light are sharp and largely free from noise artifacts. Each 4K movie can be approximately 10 minutes long, giving you ample time to capture every thrilling moment.
Nikon's renowned Active D-Lighting, which has helped still photographers control high-contrast scenes for years, can now be used when recording movies.
Chasing lively subjects or using long focal lengths when shooting movies can turn an exciting moment into a jumpy blur due to a shaky hand. Nikon's advanced e-VR (electronic vibration reduction) minimizes this. Combining a gyro with a sophisticated processing algorithm, e-VR helps you obtain clear footage without having to increase ISO or use a tripod.
Create a ten-second Full HD movie composed of up to 300 photos.
1280 x 720/120 frames per second (fps) Some moments just have to be savored, slowly and richly. For occasions like these, switch on Slow motion.
We highly recommend B&H for your J5 camera purchase.
TECHNICAL SPECIFICATIONS
Digital camera with support for interchangeable lenses
Nikon 1 mount
Effective angle of view, 2.7x lens focal length (35 mm format equivalent)
Image sensor format, CX
Image sensor type, CMOS
Sensor size, 13.2mm, x8.8mm
Total pixels, 23.01million
Effective pixels, 20.8million
Image size (pixels)
Still images taken in auto, P, S, A, M, sports, best moment capture, and all creative modes other than easy panorama (aspect ratio 3 : 2), (L)5568, x3712, (M)4176, x2784, (S)2784, x1856, Still images taken in normal panorama mode with camera panned horizontally (aspect ratio 120 : 23), (L)4800, x920, Still images taken in normal panorama mode with camera panned vertically (aspect ratio 8 : 25), (L)1536, x4800, Still images taken in wide panorama mode with camera panned horizontally (aspect ratio 240 : 23), (L)9600, x920, Still images taken in wide panorama mode with camera panned vertically (aspect ratio 4 : 25), (L)1536, x9600, Still images taken during movie recording (aspect ratio 3 : 2), (L)5568, x3712, Motion Snapshots (photo portion, aspect ratio 16 : 9) 5568 x 3136
File format
NEF (RAW): 12-bit, compressed, JPEG: JPEG-Baseline compliant with fine (approx. 1 : 4), normal (approx. 1 : 8) compression, NEF (RAW) + JPEG: Single photograph recorded in both NEF (RAW) and JPEG formats
Picture Control system
Standard, Neutral, Vivid, Monochrome, Portrait, Landscape, ; selected Picture Control can be modified
Media, microSD (micro Secure Digital), microSDHC, microSDXC
Card slot, 1 Micro Secure Digital (microSD) card
File system, DCF 2.0, Exif 2.3, PictBridge
Depth-of-field preview
Shooting modes
auto; sports; creative, with a choice of the following options: pop, retro, high-contrast monochrome, nostalgic sepia, HDR, easy panorama, soft, miniature effect, selective color, cross process, toy camera effect, cross screen, fisheye, skin softening, night landscape, night portrait, landscape, close-up, and portrait; programmed auto with flexible program, shutter-priority auto, aperture-priority auto, and manual; best moment capture (Active Selection, slow view and Smart Photo Selector); advanced movie (HD movie, 4K movie, time-lapse movie, slow motion, jump cut, fast motion and 4-second movie); Motion Snapshot; self-portrait
Electronic shutter Speed, 1/16,000to, 30s, in steps of 1/3 EV; Bulb Note: Bulb ends automatically after approximately 2 minutes
Flash sync speed, Synchronizes with shutter at X=, 1/60s;, or slower
Modes, S (single frame), Continuous, Self-timer, Interval timer shooting
Approximate frame advance rate, 60fps
Self-timer, 2 s, 10 s
Metering system, TTL metering using image sensor
Metering method
Matrix Center-weighted: Meters 4.5 mm circle in center of frame Spot: Meters 2 mm circle centered on selected focus area
Mode
P programmed auto with flexible program; S shutter-priority auto; A aperture priority auto; M manual; scene auto selector
Exposure compensation, –3 to +3EV, in steps of1/3EV
Exposure lock
Luminosity locked at metered value when shutter-release button is pressed halfway
ISO sensitivity, ISO200to, 12800, in steps of 1EV, ISO 160; 6400 (NR); 12800 (NR); auto ISO sensitivity control (ISO 160 to 6400, 160 to 3200, 160 to 800) available (user controlled in exposure modes P, S, A, and M)
Active D-Lighting, On, off
Autofocus system, Hybrid autofocus (phase-detection/contrast-detect AF); AF-assist illuminator
Lens servo
Auto AF-S/AF-C selection (AF-A), Full-time AF (AF-F), Single AF (AF-S), Continuous AF (AF-C), Manual focus (MF)
Focus area, Single-point AF: 171 focus areas; the center 105 areas support phase-detection AF Auto-area AF: 41 focus areas
AF-area mode
Focus can be locked by pressing shutter-release button halfway (single AF)
Face priority, On, off
Built-in flash
Auto and all creative modes other than HDR, easy panorama, landscape, and night landscape: Flash pops up automatically and fires as required P, S, A, M, and self-portrait: Manual
Guide number
Approx. 5/16 (m/ft, ISO 100, 20 °C/68 °F; at ISO 160, Guide Number is approx. 6.3/20.7)
Control, i-TTL flash control using image sensor
Mode, Auto, auto + red-eye reduction, fill flash, fill flash + slow sync, red-eye reduction, red-eye reduction + slow sync, rear-curtain sync, rear curtain + slow sync, off
Flash compensation, -3 to +1 EV in steps of 1/3 EV
Flash-ready indicator, Lights when built-in flash unit is fully charged
White balance
Auto, incandescent, fluorescent, direct sunlight, flash, cloudy, shade, preset manual, all except preset manual with fine tuning
Metering
TTL exposure metering using main image sensor
Metering method
Matrix Center-weighted: Meters 4.5 mm circle in center of frame Spot: Meters 2 mm circle centered on selected focus area
Frame size (pixels) and frame rate
HD movies (aspect ratio 16 : 9) 1920 x 1080/60p (59.94 fps) 1920 x 1080/30p (29.97 fps) 1280 x 720/60p (59.94 fps) 1280 x 720/30p (29.97 fps) 4K movies (aspect ratio 16 : 9) 3840 x 2160/15p (14.99 fps) Slow-motion movies 1280 x 720/120 fps (aspect ratio 16 : 9; plays at 30p/29.97 fps) 800 x 296/400 fps (aspect ratio 8 : 3; plays at 30p/29.97 fps) 400 x 144/1200 fps (aspect ratio 8 : 3; plays at 30p/29.97 fps) Time-lapse, fast-motion, jump-cut, and 4-second movies (aspect ratio 16 : 9) 1920 x 1080/30p (29.97 fps) Motion Snapshots (movie portion, aspect ratio 16 : 9) 1920 x 1080/60p (59.94 fps) (plays at 24p/23.976 fps)
File format, MOV
Video compression, H.264/MPEG-4 Advanced Video Coding
Audio recording format, PCM
Built-in stereo microphone; sensitivity adjustable
Moinitor, 7.5cm (3–in.) diagonal
Monitor resolution, Approx.1037k-dot, tilting TFT LCD touch screen with brightness adjustment
Playback
Full-frame and thumbnail (4, 9, or 16 images or calendar) playback with playback zoom, bursts shown as key frames or as consecutive pictures, movie and panorama playback, slide show, histogram display, and auto image rotation
USB connector, Hi-Speed USB
Type D HDMI connector
IEEE 802.11b, IEEE 802.11g, Operating frequency
2412 to 2462 MHz (channels 1 to 11),
Range (line of sight), 10 m/33 ft (assumes no interference; range may vary with signal strength and presence or absence of obstacles)
Data rate, 54 Mbps Maximum logical data rates according to IEEE standard. Actual rates may differ.
Security, Authentication: Open system, WPA2-PSK
One rechargeable Li-ion EN-EL24 battery
EH-5b AC adapter; requires EP-5F power connector (available separately)
Tripod socket, 1/4–in. (ISO 1222)
Dimensions (W x H x D), 98.3, x 59.7, x 31.5mm (3.9, x2.4, x1.3in.), excluding projections
Weight, 265g (9.4 oz), with battery and memory card but without body cap; approx. 231 g (8.2 oz), camera body only
Operating Temperature 0 °C to 40 °C (+32 °F to 104 °F), Humidity 85% or less (no condensation)
Supplied accessories
Body Cap BF-N1000 (included),
Rechargeable Li-ion Battery EN-EL24 (included with terminal cover),
Battery Charger MH-31 (included; plug adapter supplied in countries or regions where required; shape depends on country of sale),
Lens (supplied only if lens kit is purchased with camera),
Strap AN-N1000,
USB Cable UC-E20