The Nikon AW1 camera appears to be a landmark release for Nikon and is the first release of an advanced digital Camera with Interchangeable Lenses for use underwater.
This camera with its lenses is waterproof up to 15m and can withstand the shock of a fall from up to 2 metres.
The Nikon 1 AW1 is a very compact camera which can be taken everywhere and supports one of the world's fastest high speed continuous shooting rates of approximately 15 fps and with AF tracking and high speed continuous shooting of full resolution images at approximately 60 fps 4 when auto focus is locked.
This camera will support all of the Nikon 1 lenses but NOT for underwater usage.
As a user of the Nikon 1 system I am very impressed with the system and really like the idea of the introduction of this new underwater camera.
The Nikon 1 AW1 is equipped with an Action Control function that enables quick and easy operation such as switching between menu screens, a Control Lock function that prevents accidental operation when wearing gloves, and also has a built-in electronic compass, altimeter, depth gauge, virtual horizon display and location data functions that can be used to create logs for tracking depth or position. It also offers a number of unique functions to faciliate outdoor shooting, including an Outdoor Display Option that makes the display screen more visible outdoors or under bright sunlight. The photographer can choose from three underwater options: Standard, Scuba, and Close Up.
Main Features of AW1
Waterproof up to 15 metres

Shockproof for a fall of up to 2 metres

Interchangeable lense

Rubber seals between the front and rear body covers

O-ring on the mount

Non slip materials on the grip

Large well spaced buttons on the top of the camera

The Nikon1 AW1 is available in a silver, leather tone black or glossy white

CMOS sensor with 73 point phase detection AF and 135-point contrast detect AF

Effective pixel count of 14.25-million pixels

High sensitivities of ISO 160–6400

High speed continuous shooting at 15 fps or 60 fps with focus locking

No optical low pass filter

The camera is equipped with the EXPEED 3A image processing engine for extremely fast image processing

Electronic compass

Built in altimeter

Depth gauge

Virtual horizon display

Log tracking of depth or position

Built in flash with guide number of 5 metres, 16 feet
1 NIKKOR AW 10mm f/2.8 Lens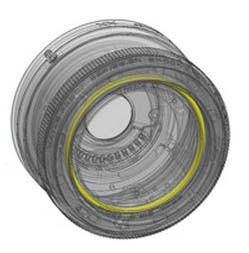 1 Nikkor AW 10mm f/2.8 Lens
Primary Features
Supports auto distortion control

Waterproof up to 20m

Minimum focus distance of 0.20 m

Shockproof to a 2m drop
 1 Nikkor AW 11-27.5mm f/3.5-5.6 Lens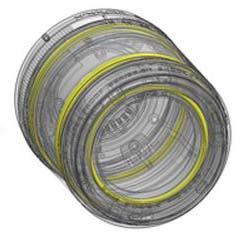 Features
Support for a wide variety of scenes, from snapshots, landscapes and portraits

Integrated with the AW1 camera

Can be zoomed underwater using the zoom ring

Supports auto distortion control underwater
Filter AW 40.5 NC
This filter is for use exclusively with the Nikon 1 AW1. When attached to a waterproof lens, it can be used in water to a maximum depth of 20m. This filter can be used with the 1 NIKKOR AW 11-27.5mm f/3.5-5.6 and 1 NIKKOR AW 10mm f/2.8.
When attached to a dedicated waterproof lens, this filter helps to prevent the lens from fogging up under water. Use of this filter is recommended when the camera and dedicated lens(es) are used at the beach or underwater.
The following outlines the Nikon 1 Cameras
The following outlines some of the Nikon 1 Lenses.