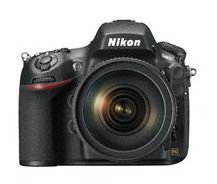 The new D800 digital SLR camera appears to be the ultimate camera where very high pixel counts are required. The camera will be capable of stunning still images and spectacular video clips.
It provides a very large 36.3 megapixel sensor and the EXPEED3 image processing engine, the D800 will be the camera of choice for studio and landscape use.
The camera will support ISO sensitivities from 50 to 25600 and  videos can be filmed in both FX and DX based movie formats.
For those who are seeking extraordinary details in their images, the D800E is also available to create the sharpest shots by disabling the aliasing and moiré pattern reduction operation performed by the optical low pass filter.
An advanced Scene Recognition System with enhanced accuracy is provided by utilising a 91K-pixel RGB sensor. The Advanced Scene Recognition System realises face detection during optical viewfinder shooting. It achieves highly accurate control of automatic functions such as AF, AE and AWB utilizing face detection information and detailed scene analysis information.
The D4 and the d800 are the newest cameras in the Nikon line up at the time of writing this. The way I see theses cameras fitting in, is that the D4 is the speed demon and is the camera that would be used for such things as events, weddings and sports where fast action and large in camera buffers are required. In my view the camera of choice for applications where detail would be required is the D800 or D800E. I see the D800 being used in applications where speed is not so important but where detail is the ultimate criteria, such as landscape, studio and nature photography where you can take time to compose and set up.
If you are using the Nikon D800 or 800E, you will really need to refine your photographic technique to get the best out of the camera. To extract the best quality you will need to use the best lenses.
The following lenses are those recommended by Nikon for the D800E.
AF-S Nikkor 14–24 mm f/2.8G ED
AF-S Nikkor 24–70 mm f/2.8G ED
AF-S Nikkor 70–200 mm f/2.8G ED VR II
AF-S Nikkor 16–35 mm f/4G ED VR
AF-S Nikkor 24–120 mm f/4G ED VR
AF-S Nikkor 200–400 mm f/4G ED VR II
AF-S Nikkor 24 mm f/1.4G ED
AF-S Nikkor 35 mm f/1.4G
AF-S Nikkor 85 mm f/1.4G
AF-S Nikkor 200 mm f/2G ED VR II
AF-S Nikkor 300 mm f/2.8G ED VR II
AF-S Nikkor 400 mm f/2.8G ED VR
AF-S Nikkor 500 mm f/4G ED VR
AF-S Nikkor 600 mm f/4G ED VR
AF-S Micro Nikkor 60 mm f/2.8G ED
AF-S VR Micro-Nikkor 105 mm f/2.8G IF-ED.
Other lenses will of course work but may not get the best out of the camera.
You will also need to use the best shooting techniques to get the optimum image quality. Some tips are as follows:
Use the optimum lens aperture to ensure no diffraction
Use a really solid tripod and head
Use Live View
Use mirror lock up with a remote release or self timer
Use critical focusing, using single point AF and Live View focus magnification.
When shooting hand held use lenses with VR if possible
Use a high shutter speed
Use the lowest possible ISO.
There are images from the Nikon D800 camera on the Flickr Site.
Nikon FX cameras available from B&H shown below.

Specifications
Effective pixels, 36.3 million
Image sensor, 35.9 x 24.0 mm CMOS sensor
Image size (pixels)

FX (36 x 24) image area: 7,360 x 4,912 (L), 5,520 x 3,680 (M), 3,680 x 2,456 (S)1.2x (30 x 20) image area: 6,144 x 4,080 (L), 4,608 x 3,056 (M), 3,072 x 2,040 (S)
DX (24 x 16) image area: 4,800 x 3,200 (L), 3,600 x 2,400 (M), 2,400 x 1,600 (S)5 : 4 (30 x 24) image area: 6,144 x 4,912 (L), 4,608 x 3,680 (M), 3,072 x 2,456 (S)
FX-format photographs taken in movie live view: 6,720 x 3,776 (L), 5,040 x 2,832 (M), 3,360 x 1,888 (S)
DX-format photographs in movie live view: 4,800 x 2,704 (L), 3,600 x 2,024 (M), 2,400 x 1,352 (S)

Media, SD (Secure Digital), Type I  CompactFlash memory cards UDMA compliant
Shutter Type,

Electronically controlled vertical travel focal plane shutter
Speed, 1/8000 – 30 s in steps of 1/3, 1/2, or 1 EV, bulb, X250
Flash sync speed, X=1/250 s; synchronizes with shutter at 1/320 s or slower (flash range drops at speeds between 1/250 and 1/320 s)

ISO sensitivity, ISO 100 – 6400 in steps of 1/3, 1/2, or 1 EV. Can also be set to approx. 0.3, 0.5, 0.7, or 1 EV (ISO 50 equivalent) below ISO 100 or to approx. 0.3, 0.5, 0.7, 1, or 2 EV (ISO 25600 equivalent) above ISO 6400; auto ISO sensitivity control available
Flash, built in flash, Manual pop-up with button release and a Guide Number of 12/39, 12/39 with manual flash (m/ft, ISO 100, 20 °C/68 °F)
Movie

TTL exposure metering using main image sensor
Frame size (pixels) and frame rate, 1,920 x 1,080; 30 p (progressive), 25 p, 24 p1,280 x 720; 60 p, 50 p, 30 p, 25 pActual frame rates for 60 p, 50 p, 30 p, 25 p, and 24 p are 59.94, 50, 29.97, 25, and 23.976 fps respectively; options support both high and normal image quality
File format, MOV

Dimensions, (W x H x D), 146 x 123 x 81.5 mm (5.7 x 4.8 x 3.2 in.)
Weight, 1,000 g, (2 lb 3.3 oz) with battery and SD memory card but without body cap; 900 g/1 lb 15.7 oz (camera body only)
Operating Temperature, 0-40 °C (+32-104 °F)
Humidity, Less than 85% (no condensation)