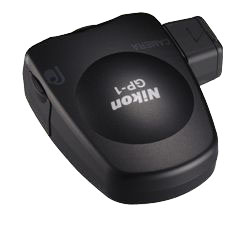 The GP-1, Global Positioning System (GPS) accessory is a great addition to your camera system. Very often when I am travelling I am inclined to forget (getting old) where I captured a certain image. With the GP-1, you will always be able to identify where an image was captured.
The system will record, the latitude, longitude, altitude and Universal Time Coordinated (UTC), with the image data EXIF information.
You can use the image data recorded with the location information embedded in the file details, using ViewNX 2, available free from Nikon and also supplied with your Nikon  camera.
This GPS accessory is compatible with the following Nikon cameras:
D3, D3x, D3s,
D700,
D300, D300S,
D7000,
D90,
D5000, D5100,
D3100,
D2x, D2xs, D2Hs
D200.
The unit is easily connection to the camera, with a supplied cable. The LED of the GP-1 and the display panel of the camera will show the status of the receiving GPS data.
The remote shutter release via a remote cord, MC-DC2 can be connected to the GP-1.
The accessory uses a USB connector that enables direct connection to a computer.
No additional battery is required as the power is supplied from the camera.
Purchase your GPS system for your Nikon Camera at B&H Photo Video.
Specifications
Acquisition times,

Cold start, 45 s,
Hot start, 5 s

Update rate, every second,
GPS accuracy, horizontal, 10 m/33 ft,
Connection and accessory terminals, USB,
Power consumption, 180 mW,
Dimensions, 45.5 x 25.5 x 50 mm or 1.8 x 1.0 x 2.0 in,
Weight, 24 g, 0.85 oz,
Cable length, 25 cm, 10 in.