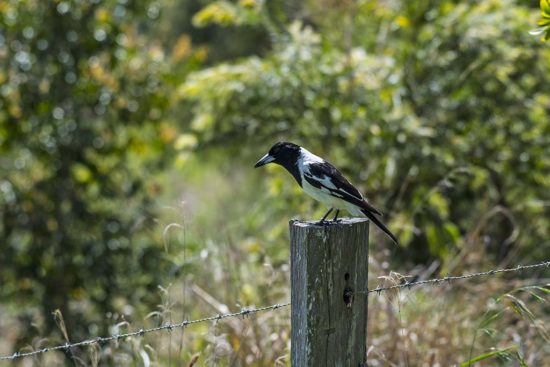 Generally your local Botanical Gardens is a wonderful place to learn to photograph birds. Not far from where I live I have Rosser Park, a beautiful park with a lake system and a large variety of birds.
Generally when walking around this park I carry a Nikon D700 camera with a 300mm f/4 lens, sometimes I wish the lens was f/2.8 which would be better in lower light, and may be faster in focussing, the f/2.8 lens would also take teleconverters better, but the 300mm f/4 lens is nice and compact and easy to carry. The Nikon 300mm f.2.8 lens, also has VR functionality which would also be a great advantage at slow shutter speeds.
The above image of the Butcher bird was taken at a shutter speed of  1/60 second at 500ISO and an aperture of f/5.6. There is no way I could have taken this image at 1/60 second hand held and got a sharp image like this. I find a great solution, is to carry a monopod, it is convenient and easy to carry and gives great support to the long lens at low shutter speeds. A tripod will give better support but is not as convenient to carry.
I hope to get back to this park on a regular basis as each time I go there I seem to get to photograph many different creatures.