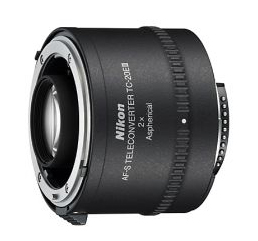 The teleconverter can be used to effectively extend the focal length of telephoto lenses. In general they can be used with the following lenses.
105mm 2.8 AF-S Micro
70-200mm 2.8 AF-S
200-400mm 4.0 AF-S
200mm 2.0 AF-S
300mm 2.8 AF-S
300mm 4.0 AF-S
400mm 2.8 AF-S
500mm 4.0 AF-S
600mm 4.0 AF-S
In general all the above lenses will work very well with the 1.4 teleconverter, however the f/4.0 lenses may have some difficulty auto focussing  with the 1.7 and 2.0 teleconverters. In bright lighting all teleconverters can work quite effectively. It should be kept in mind that all teleconverters will degrade the image to some extent, however this can be hardly noticable and the degradation will increase with the 1.7 and 2.0 teleconverters.
The best lens quality is acheived with a lens without any teleconverter, however for photography of subjects such as birds, teleconverters can be invaluable.
This AF-S teleconverter provides a 2.0 times increase in the main lens. This AF-S teleconverter is the latest Nikon design and uses an aspherical lens element to give better performance. The teleconverter extends the focal length of the primary lens by 2 times.
The contrast and resolution is improved considerable from previous teleconverters and this teleconverter gives excellent results with low aperture AF-S lenses. The use of this teleconverter decreases the effective aperture  of the  main lens by two stops
All normal lens functions will operate with this teleconverter in use.
Purchase your Nikon Teleconverters at B&H Photo Video.
Specification:
Lens Construction 7 elements , 5 groups,
Dimensions 66 x 48mm,
Weight 330 grams.