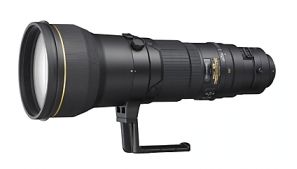 This is a huge lens with Nikon's VR II system, to stabilize images due to movement, which gives an effective improvement of four stops.
This lens is nearly always used on a tripod and a tripod mode is provided to help reduce any vibration that may occur. The A/M focus mode, allows instant switching from autofocus to manual focus. Personally I can not use this lens handheld, it is too heavy and bulky, it needs a substantial tripod.
The lens uses the Nikon nano crystal coating and a meniscus protective glass element at the front of the lens is provided. A focus preset setting can  instantly recall preset focus points with the push of a button. This lens is very heavy and difficult to hand hold, ideally it is used on a tripod with a good quality gimbal mount.
This is the longest focal length lens that Nikon currently manufacture, the workmanship of the lens is superb. This lens will give contrasty and extremely sharp images with correct long lens technique, with highly saturated colours and close to no colour fringing. Images are extremely sharp at f/4, the lowest aperture and will slightly improve at f/5.6 and above. This lens is the ultimate lens for birding and photographing other shy creatures at a distance. It is also great for some sporting events. Beware, you need to be very fit to use this lens, if you are hiking any distance.
The current Nikon teleconverters TC-1.4E II, TC-1.7E II and TC-2.0E III perform very well with this lens, and can give an effective focal length of up to 1,200mm with the TC-2.0E III.
Lens specification:
Lens Construction, 15 elements, 12 group, 3 ED glass elements, 1 nano crystal coated element, 1 meniscus protective lens,
Picture angle, FX, 4°10',
Picture angle, DX, 2°40',
F stop range 4 to 22,
Closest focusing distance 5.0 metres,
Maximum reproduction ratio 0.14 times,
Filter size 52 mm,
Lens hood, HK-3,
Lens case, CT-607,
Dimensions 166 x 445 mm,
Weight 5,060 grams.