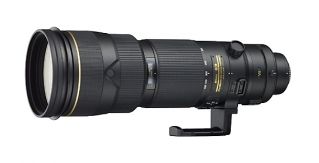 This lens is Nikons longest zoom lens and has exceptionally good performance for photography of nature and wildlife, including large birds. The lens also has a great capability for focussing at close range, it will focus down to 2.0 metres with a reproduction ratio of 0.27, or approximately 1/4 life size. The lens has nano coating to reduce the effects of flare and ghosting, the lens also has  VR II.
There are four ED elements in the lens to give better performance with chromatic aberrations.
An A/M, autofocus with manual override, AF priority, mode is provided. Also a  M/A, autofocus with manual override, MF priority mode, to enables manual focusing by rotating the focus ring while autofocus is operating, and an M, manual focus mode.
Many photographers regard this 200-400mm zoom as one of the best zoom lenses available. The performance of this zoom lens is exceptional at close range, however at longer distance, the lens is not quite so good. Performance is exceptional for close birds and animals. If you require a lens for use at distances greater than 300 metres then it may be better to get one of the long primes such as the 300mm f/2.8 or the 500mm f/4.0 as these lenses will be much better at longer distances.
The lens provides weather sealing with a rubber gasket at the rear. The lens is quite long but is relatively easy to handle with the camera attached.
The lens AF-S focussing is very fast and responsive. The images are very nicely saturated with high contrast, and great sharpness. The sharpness improves as the lens is stopped down, even right down to f/16 the lens sharpness is still there.
Flare is not a problem with this lens, however there is slight ghosting if shooting directly into the sun.
This lens will perform very well with the current version  Nikon teleconverter TC-1.4E II, however with the TC-1.7E II and TC-2.0E III he performance may be a little inconsistant, but some excellent images will be obtained if the lens is stopped down . Photographers do need to realize that teleconverters do degrade images, but this can be eliminated to some extent if the lens is stopped down by one or two stops.

Lens Specification:
Lens Construction, 24 elements, 17 groups, 4 ED glass elements and nano crystal coating,
Picture Angle, FX 12°20´ to 6°10´,
Picture Angle, DX 8° to 4°,
F stop range 4.0 to 32,
Closest focusing distance in AF mode 2.0 metres, in MF mode 1.9 metres,
Maximum reproduction ratio 0.27 times,
Filter size 52 mm, internally,
Lens hood HK-30,
Lens case CL-L2,
Dimensions 124 x 365.5 mm,
Weight 3,360 grams.