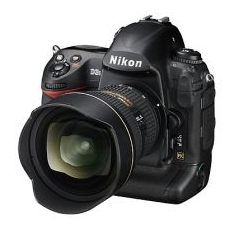 The D3s in addition to superb high resolution still image quality, it offers HD quality D-Movie function, with an external stereo recording microphone, as well as convenient in camera editing functions, such as the ability to select the starting and ending points in order to trim D-Movie footage, as well as the ability to save selected movie frames as JPEG images.
The camera offers excellent high ISO performance to ISO 12800 as standard, with twin CF card slots and a long life battery capacity.
This is the ultimate FX camera if 12MPixels is enough, if not then move on to the D3x, which doubles the pixel density.
This camera offers 12.1 million pixels, sensor is full frame FX, ISO range is 200 to 12,800 in steps of 1/3, 1/2 or 1 EV and the camera offers full movie mode.