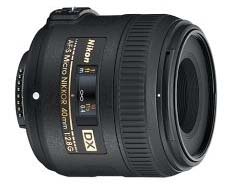 The Nikon 40mm f/2.8G Micro lens is an extremely compact lens for close up and macro work. It offers quite a short focal length and a Macro reproduction ratio of 1:1, or life size. It is a DX format lens. This very small and cheap lens will easily fit into the camera bag for DX shooters with very little addition ion weight.
Personally I love using small lenses which make the camera much easier to handle and are less conspicuous when photographing around people.
The lens is equipped with a silent wave focussing motor and an A/M switch on the lens to switch between manual and automatic focussing.
The addition of this lens now gives a very large choice of close up Micro lenses for DX photographers. There is the 40mm f/2.8 DX, 60mm f/2.8 FX, 85mm f/3.5 DX, 105mm f/2.8FX and the 200mmf/4 FX lenses, these are all Micro lenses which can focus up to a reproduction ration of life size. For a complete review of all these lenses visit our Nikon Lens Reviews, Recommendations and Articles.
This lens will become very popular with Nikon DX shooters due to its low price point. A lens of this focal length, 40mm is extremely good for applications such as flower photography, but is a little short for applications such as insects or similar subjects.
Purchase your Nikon Digital SLR Lenses here at B&H Photo Video.
Specification
9 elements and 7 groups,
Image angle, DX format 38° 50′,
Closest focusing 0.163 m,
Maximum reproduction ratio, 1 times,
7 rounded diaphragm blades,
Filter size 52 mm,
Dimensions, 68.5 mm x 64.5 mm,
Weight, 235 grams,
Supplied Accessories
52 mm snap-on lens cap, LC-52,
Rear lens cap, LF-4,
Hood, HB-61,
Lens Pouch, CL-0915.
There are many images captured with this lens on the Flickr Web site.