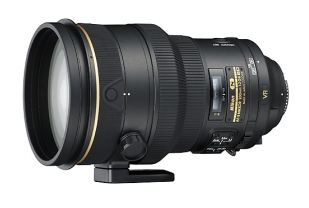 This lens is an extremely fast telephoto suitable for sports, theater events and nature photography where the lighting is limited.
This lens is very suitable for use with the Nikon teleconverters, TC-1.4E II, TC-1.7E II and TC-2.0E III. Superb results will be obtained with all these teleconverters.
The built in vibration reduction will give equivalent to four stop gain in shutter speed. THe VR has two VR modes, normal and active.
There are three focus modes,
M/A, autofocus with manual override, MF priority,
M, manual,
A/M autofocus with manual override, AF priority.
Purchase your Nikon Digital SLR Lenses here at B&H Photo Video.
Lens Specification:
13 elements, 9 groups, 3 ED elements, 1 Super ED element, nano crystal coating, 1 protective glass element,
Picture angle, FX, 12° 20',
Picture angle, DX, 8°,
f stop range, 2.0 to 22,
Closest focusing distance, 1.9 metres,
Maximum reproduction ratio, 0.12 times,
Filter size, 52mm,
Lens hood, HK-31,
Dimensions, 124 x 203.5mm,
Weight, 2,930 grams.