The Nikon Z50 Camera is a very small, high quality camera, in some respects I would say it is tiny compared to some of the larger Mirrorless and Digital SLR cameras, the size of this camera is comparable with some of the larger mobile phones which people are using for their everyday camera.  But being so small the image quality is exceptional in this new generation DX system.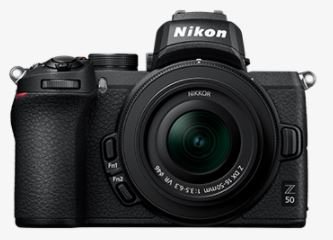 The following are the two kit lenses that can be purchased as a kit with the Z50 camera or purchased separately.  We purchased these lenses together with the camera.
I have done separate reviews on these two lenses, the Nikon NIKKOR Z DX 50-250mm f4.5-6.3 VR Lens.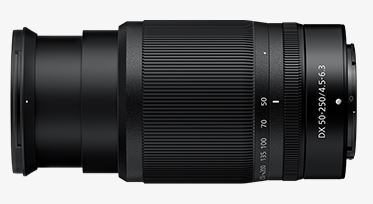 Also, here is a separate review of the Nikon NIKKOR Z DX 16-50mm f3.5-6.3 VR Lens.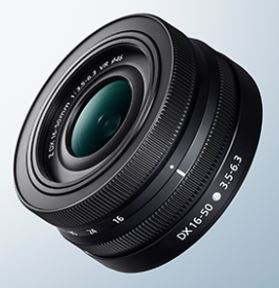 I did purchase this camera for my wife.  She had been using a Nikon 1 system camera, but the 70-300mm Nikon 1 lens died and she needed a replacement.  We decided on the Z50 DX camera as the way ahead and compared to the Nikon 1 camera in terms of image quality, the Z50 camera is streets ahead of the Nikon 1.  It really is all about image quality, otherwise wouldn't my wife be using her mobile phone camera, but no, if you want great high resolution images, with beautiful contrast and superb colours then use a real camera.  The Nikon Z50 is well and truly a real camera.
I have used older generation Nikon crop (DX) cameras and they have all performed exceptionally well, but this Z50 DX camera, with the new Nikon wider lens mount and shorter lens flange distance, is markedly better than any previous Nikon DX cameras that I have used.  I have images on our wall at home up to 1 meter wide and they look super sharp, they are images which have been taken with previous generation Nikon DX cameras I have owned and this Z50 camera captures better images than any of the previous DX cameras I have used in the past.
I have mentioned the shorter lens flange distance and the larger/wider lens mount with the new Nikon mirrorless Z cameras and this new lens mount, gives the lens designers a far better capability to design superb performing lenses, better than could be designed with the previous lens Nikon mount.  The need for the new lens mount arose because of the change from the Digital SLR technology to the newer Mirrorless technology.  One has only to look at all the current range of lenses available for the Z system, not only the DX lenses but all of the Nikon Z lenses, as they all can be used on the Nikon DX system.  Currently there is a full range of lenses available as follows, suitable for use with this Z50 camera:
14-24mm f/2.8 S,
14-30mm f/4 S,
16-50mm f/3.5-6.3 DX,
20mm f/1.8 S ,
24mm f/1.8 S,
24-50mm f/4-6.3,
35mm f/1.8 S,
50mm f/1.8 S,
50mm f/1.2 S,
58mm f/0.95 Noct S,
24-70mm f/2.8 S,
24-70 f/4 S,
85mm f/1.8 S,
24-200mm f/4-6.3 S,
70-200mm f/2.8 S,
50-250mm f/4.5-6.3 DX,
Teleconverter TC-1.4x
Teleconverter TC-2.0x
The lenses above with the notation DX are for the DX cameras such as the Z50, the lenses with the notation S are essentially the Nikon top of the range performing lenses.  It should be noted that all of these lenses quoted above can be used on the Z50 camera and they are renowned to perform exceptionally well.  In reports from users and testers of lenses, it is well publicised that all of the Nikon Z lenses above will either exceed or go well beyond ones expectation on the performance of camera lenses.  If you think all of the above bodes well for the Z50, well no, it just gets better.  With the Z50 camera there is a Nikon FTZ adapter, which will adapt nearly all of the previous, current and future Nikon FX mount lenses to the new Z mount.  This really give the user the possibility if using many, many lenses on this camera.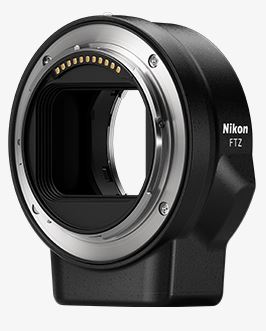 The above FTZ adapter mounts between the camera body and virtually any of the Nikon FX mount lenses to give the Z cameras an extremely great range of lenses to use.
An Arguable Point
Many people argue that there is not a good range of Nikon DX lenses to choose from, but I believe I have a great response to that situation.  The fact is, that any of the lenses referred to above can be used with the Nikon DX cameras.  In fact there is a huge advantage in using any of the large range of current and older FX lenses with DX cameras using the FTZ adapter and that is that the DX camera only uses the center portion of the lens to focus the image on to the sensor, this is because the DX sensor is smaller and consequently only uses a smaller portion of the center of the lens compared to the full size FX sensor.  It is well recognised that the center portion of any lens is generally sharper than the edges or corners of the lens.
How often do we hear the comment that "the corners of that lens is really soft", meaning that the corners and edges of the resulting image are not as sharp as the center of the image.  When we use those so called soft corner lenses with a DX camera we do not see those unsharp corners, which ultimately means that the lenses are effectively sharper.
Summary
This is the first DX format mirrorless camera by Nikon and they seem to have done a very good job in producing a very nice and small camera.
The camera has great features and handles very much like its bigger brothers and sisters. The 20 MPixel sensor is very similar in performance to the previous Nikon DX DSLR cameras.
The 11 Frames Per Second continuous shooting speed is very nice to have and the cameras ISO range for shooting in dull light is quite good.
As a video camera the Z50 is very capable and can do very nice videos, I have done an example in this previous Blog.
The new Z-mount DX lenses, the 16-50mm and the 50-250mm are very capable and appear to be very sharp and have nice contrast.
The camera has a very nice tilt down screen and this screen is touch sensitive for ease of some operations.
In short I have nothing but praise for this camera.
Camera Specification
The following is a detailed summary of the camera specification:
Digital camera with support for all interchangeable lenses.

Nikon Z mount, but can be used with the FTZ adapter with older Nikon lenses.

DX image sensor format.

CMOS sensor,

23.5 mm x 15.7 mm.

21.51 million pixels.

Image Dust reduction system.

20.9 million

effective pixels.

Image size (pixels),

DX (24×16) image area,

(L) 5,568 x 3,712 ( 20.7 million),

(M) 4,176 x 2,784 ( 11.6 million),

(S) 2,784 x 1,856 ( 5.2 million),

1 : 1 (16×16) image area,

(L) 3,712 x 3,712 ( 13.8 million),

(M) 2,784 x 2,784 ( 7.8 million),

(S) 1,856 x 1,856 ( 3.4 million)

16 : 9 (24×14) image area,

(L) 5,568 x 3,128 ( 17.4 million),

(M) 4,176 x 2,344 ( 9.8 million),

(S) 2,784 x 1,560 ( 4.3 million),

Photographs taken during movie recording at a frame size of 3,840 x 2,160: 3,840 x 2,160,

Photographs taken during movie recording at a frame size of 1,920 x 1,080: 1,920 x 1,080.

File format,

NEF (RAW): 12 or 14 bit,

JPEG: JPEG-Baseline compliant with,

fine (approx. 1 : 4),

normal (approx. 1 : 8),

basic (approx. 1 : 16) compression,

NEF (RAW)+JPEG: Single photograph recorded in both NEF (RAW) and JPEG formats.

Media,

SD,

SDHC (UHS-I compliant),

SDXC (UHS-I compliant).

Viewfinder,

0.99-cm/0.39-in. approx. 2360k-dot (XGA) OLED electronic viewfinder with color balance and auto and 7-level manual brightness controls,

Frame coverage, a

pproximately 100% horizontal and 100% vertical,

Magnification, a

pproximately, 1.02x,

Diopter adjustment,

Eye sensor a

utomatically switches between monitor and viewfinder displays.

Electronically controlled vertical travel focal plane mechanical shutter; electronic front-curtain shutter; electronic shutter.

Shutter Speed,

1/4000 to 30 s (choose from step sizes of 1/3 and 1/2 EV), bulb, time.

Flash sync speed,

X= 1/200 s; synchronizes with shutter at 1/200 s or slower; Auto FP High-Speed sync supported,

Modes,

Single frame,

low-speed continuous,

high-speed continuous,

high-speed continuous (extended),

self-timer.

Up to 11 frames per second (fps) Low-speed continuous: 1 to 4 fps High-speed continuous: 5 fps High-speed continuous (extended): 11 fps.

Self-timer,

2 s, 5 s, 10 s, 20 s; 1 to 9 exposures at intervals of 0.5, 1, 2, or 3 s.
TTL metering using camera image sensor,

Matrix metering,
Center-weighted metering,
Spot metering.

Modes,

Auto,

P: programmed auto with flexible program,

S: shutter-priority auto,

A: aperture-priority auto,

M: manual,

U1 and U2: user settings.

Exposure compensation,

–5 to +5 EV (choose from step sizes of 1/3 and 1/2 EV).

Exposure lock.

ISO sensitivity, ISO 100 to 51200 (choose from step sizes of 1/3 and 1/2 EV).

Active D-Lighting,

Can be selected from Auto, Extra high, High, Normal, Low, or Off.

Multiple exposure.

HDR (high dynamic range), photo mode flicker reduction.

Autofocus system

.

Flash

Built-in flash, m

anual pop-up flash raised via flash pop-up control Guide Number: Approx. 7/22, 7/22,

White balance control,

Video

Frame size (pixels) and frame rate,

3840 x 2160 (4K UHD); 30p (progressive), 25p, 24p,

1920 x 1080; 120p, 100p, 60p, 50p, 30p, 25p, 24p,

1920 x 1080 (slow-motion); 30p x4, 25p x4, 24p x5.

File format,

MOV, MP4,

Audio recording,

Built in stereo or external microphone,

Exposure compensation,

–3 to +3 EV (choose from step sizes of 1/3 and 1/2 EV) available in P, S, A, M, SCN, and EFCT modes,
ISO sensitivity, Index),

M: Manual selection (ISO 100 to 25600;

Choose from step sizes of 1/3 and 1/2 EV);

Auto ISO sensitivity control (ISO 100 to 25600) available with selectable upper limit

Active D-Lighting, Extra high, High, Normal, Low, or Off.

Time-lapse movies,

Monitor size, 8 -cm ( 3.2 –in.) diagonal.

Monitor type,

Tilting TFT touch-sensitive LCD with 170° viewing angle, approximately 100% frame coverage, and 11-level manual brightness controls.

Monitor resolution,

1040 k-dot.

Playback.

USB connector.

HDMI output connector.

Audio output.
Wi-Fi.
Bluetooth, range (line of sight).

One EN-EL25 rechargeable Li-ion battery, with

EH-73P charging AC adapter.
Tripod socket, 1/4–in. (ISO 1222).

Dimensions (W x H x D),

126.5 x 93.5 x 60 mm ( 5 x 3.7 x 2.4 in.).

Weight,

450 g ( 15.9 oz. ) with battery and memory card but without body cap; approx. 395 g/14 oz. (camera body only).

Operating environment, t

emperature: 0 °C to 40 °C (+32 °F to 104 °F) Humidity: 85% or less (no condensation).
Supplied accessories
BF-N1 Body Cap,
DK-30 Rubber Eyecup,
EN-EL25 Rechargeable Li-ion Battery with terminal cover,
MH-32 Battery Charger,
AN-DC20 Strap,
UC-E21 USB Cable.